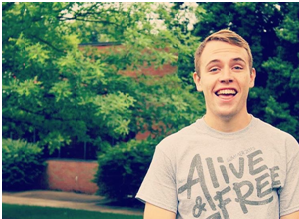 Jon Russell is a junior at West Kentucky Community and Technical College studying nursing. This will be Jon's third summer with FUGE serving as SLA leader at North Greenville University. He has previously served as SLA leader in Nashville and as a support staffer at Ridgecrest. Jon loves traveling, spending time outdoors, sweet tea, and Kentucky Basketball.
I am a talker. If you have ever met me, it's not hard to figure out in the few moments after initially speaking with me that I enjoy conversation. I might talk about a multitude of things: sports, church, school or anything else that you can come up with. If you have a topic that interests you and you want to talk about, I am all for it. At least that's what I thought in the days leading up to my arrival at the Student Leader Apprentice Program (or SLA) in Nashville, Tennessee in the summer of 2012. For those who do not know, SLA is a two-week program that is sponsored by FUGE Camps. This program gives aspiring leaders and future hopeful FUGE staffers a taste of what being a staffer is all about. The two weeks spent as an SLA student is filled with Bible studies, leadership training, and the all important shadowing of an amazing FUGE staffer. I Participated in SLA as a student in 2012 and served as the leader of the program in 2015. This experience was a privilege and a blessing. Reflecting back on my time spent with SLA as a student and leader, I learned countless things that make me the person I am today. However, out of all the things the Lord has shown me through my experience at SLA, there is one thing that continues to resonate with me day after day: the importance of a transparent testimony.
As a student, I thought I could talk my way through any topic and scenario and not get that uncomfortable, awkward feeling that many have when speaking in public. That was until I was asked to share my testimony at SLA. I had never shared it before. I had never dared to tell anybody my past mistakes. Never once had I proclaimed verbally the events in my life that had shaped me into who I was, and the thought of telling people who I hadn't even known for 24 hours about these things made me especially uneasy. This was the period in my life when the Lord used my SLA leader to express the importance of a Christian's testimony. During my time spent at SLA, a spiritual light bulb of sorts flickered on. I began to understand why proclaiming my past mistakes and how the Lord helped me overcome my sins was important. The Lord uses our testimonies to relate to others. He uses our testimony to help others overcome some of the same situations we were placed in ourselves. The sharing of our testimony gives hope and creates community among ourselves and other Christians.
As SLA leader in the summer of 2015, I had the privilege of leading the same program that changed my life three years earlier. At the start of every week, I asked my students to share their testimony just like I was called on to do as a student. Their responses and reactions were some of the most poignant moments from my summer. Every week, I was able to witness tear-filled, heart-tugging, life-changing moments. The Lord moved, people confessed the sins that had held them captive for years, and then found comfort in their brothers and sisters in Christ. Each week students would take home skills that would lay a foundation for a transparent community founded on Jesus Christ. Not a community that just talks about all the good things in their lives, but one that talks about the hard things and the ugly things and addresses the dire need for accountability among other Christians.
SLA is not just a place where adventure takes place and friendships are formed, it is a place where the Lord promotes life change. SLA is a place where a genuine reflection of transparent and authentic community that seeks to glorify God is seen. Testimonies are spoken and are used to give others faith in the fact that our God is truly a BIG God who does BIG things.
For more information on SLA please visit www.fugecamps.com/sla/.